Revolutionizing the Satin Bonnet. Are you ready to meet your Hair's BFF?
WHAT OTHER WOMEN ARE SAYING
"Ordered this because I was getting box braids. When I first got it I was a little unsure about it but it works well. Comfortable and nice."

- Whitley B.

"My locs are thick and long it did take a few tries to get all my hair in the cap and the length portion. Overall it works well I gotten good coverage using it as a shower cap."

- Denise L.

"Thanks for the Sassy Hair Cap. Also, thanks for the quick shipping, fair price and great service! Shop highly recommended! Bianca - you are the best!"

- S.G.

"I have had mine since the summer and it's amazing for locs/faux locs, long hair, braids, and even short hairstyles! Please bring it back in stock!"

- L.A.

"Exactly as described...I got long box braids for the summer and it helped with keeping my style looking fresh and tucked away while a slept👍🏽👍🏽👍🏽."

- Fararh Valero

"Perfect for long hair. Satin is great quality and elastic is covered by satin so it won't damage your hairline. Great product!"

- Q

"I got the shipment very quick, 1 or 2 days I believe, and the sleep cap is very long which was needed for my long Marley Twists! Thank you so much!"

- Geneva S.

"Love my new sassy cap! I instantly felt comfortable in it. Especially not having to wear my small bonnet with my box braids."

- Amelia Rideau Pennington

"I got my new cap today and hopped in the shower and my very very big natural hair is still dry. Can't wait to finally be able to keep my updos and other hairstyles dry between styling sessions. Love this! I got one for my husband too - he has long locks. Awesome!"

- Simion Y.

"In all the years I have worn a bonnet to sleep, this is the first one to stay on ALL NIGHT! Thanks Sassy Cap!"

- Pamela H.
Revolutionizing the Satin Bonnet. Are you ready to meet your Hair's BFF?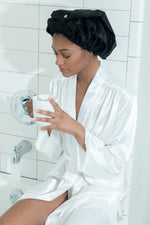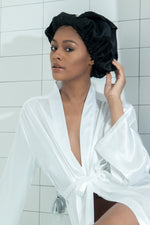 Sassy Hair Cap
We are closing the gap for hair care accessories by designing quality products inclusive of all textures and curl patterns.
Why Us